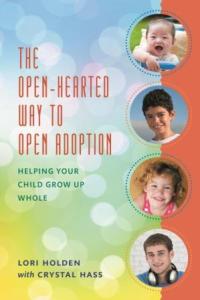 This is not an exhaustive directory of adoption resources.  Rather, it is a list of resources personally endorsed by Lori or a BestLight client.  We ask your assistance in building this resource page at sky.pro.  Let other adopting families know when you have a fantastic experience with an adoption-related organization — submit your own .
My book: The Open-Hearted Way to Open Adoption: Helping Your Child Grow Up Whole. Your handbook to creating and sustaining healthy, child-centered open adoption relationships.
Agencies:
Open Adoption & Family Services (nationwide, with offices in WA and OR)
Adoption Connection (San Francisco)
Lutheran Family Services of the Rocky Mountains (multiple locations)
Lutheran Social Services of IL
Abrazo Adoption Associates of San Antonio, TX
Friends in Adoption (nationwide, with offices in VT and NY)
AdoptionSTAR, authorized in NY, licensed in OH and FL, approved in CT
Publications:
Adoptive Families
Adoption Today
The Adoption Guide
Openness in Adoption Study (March, 2012)
e-Communities:
ALI Blogroll (Adoption/neo-natal Loss/Infertility)
Creating a Family
Adoption Blogs and Sites:
LavenderLuz.com
Open Adoption Bloggers (archives)
Today's the Day (adult adoptee from closed era, as well as adoptive mom)
Amstel Life (first mother)
Musings of the Lame (first mother)
Susie Book (first mother)
The Donaldson Adoption Institute
America Adopts!
Canada Adopts!
More help with profiles:
Pitter Patter Profiles
Gourmet Book Design by Adam Rubenstein, a birth father
Little Blessings Adoption
.